A Step-By-Step Approach

1. If you do not have an AlertPay account yet, I would suggest that you sign up by following the directions on the link below:

Setting up an AlertPay account

2. Sign up at Insta-Bux Website by clicking the link below:

http://insta-bux.net/register.php/sweetmafia.html

You will be brought to this page:




3. Fill out the necessary information needed to sign-up your account. You also need to make sure that the 'Referral' portion of the form should have my referral - sweetmafia. If it has nothing on it, just manually type my nick.

4. Click the 'Register' button and you will be taken to this page: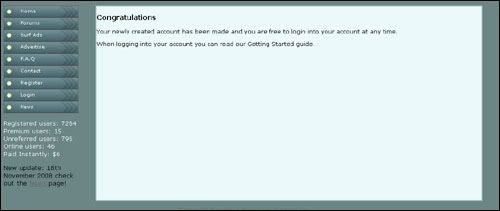 5. You will be asked to log in to your account.




6. When the 'Getting Started' page appears. You may read the information before starting. Click the 'Continue' button to start.




7. To start viewing ads, click the 'Surf Ads' button located on the left side of the page.




Advertisements will now appear. It should look like this:




8. Click one ad a time. A timer should appear for 30 seconds. It is located as a top bar on your browser with the advertisement on it.




9. You can close the ad when it's done and proceed to the next ad. You may not view two ads at the same time.




10. To verify if your clicks have been credited, just click the 'My Account' menu.